Tree Felling | Cutting in Ashford Kent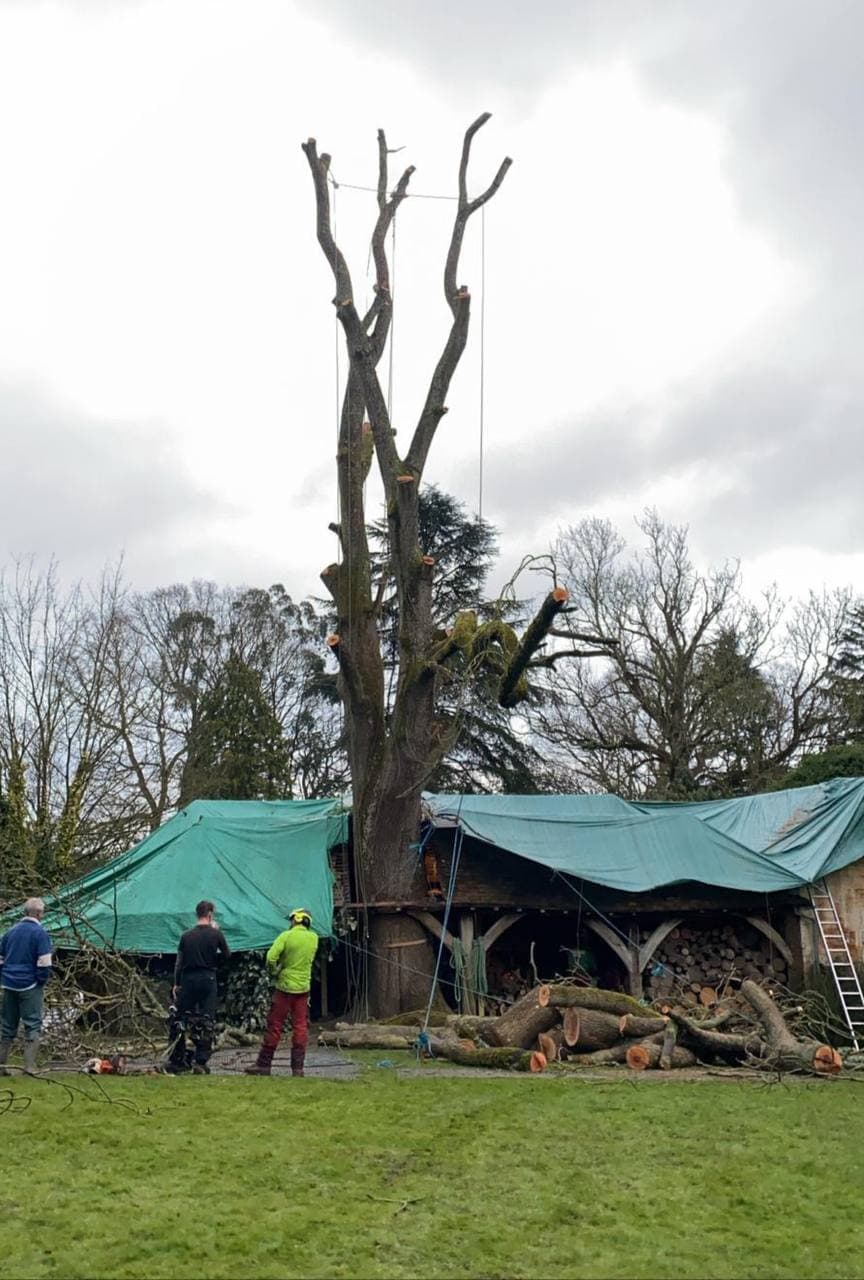 Tree Cutting | Felling Services in Ashford, Kent & surrounding areas
Tree felling is the process of how we remove a tree from its natural habitat. There can be many reasons for this, including removing dead or diseased trees that have become hazardous or even due to access requirements for construction works.
Upon you making initial contact with us. We will discuss your needs and take details of what you would like us to attend to. The cost of tree felling can vary depending on so many factors, so we will arrange a time that is convenient to carry out a site survey, where we can see the full scope of works required, and offer you our expert advice on how best to tackle the job at hand.
All jobs undertaken by Ashford Tree Surgeons are by skilled operators who work with residential clients and private landlords and developers. We provide the best advice and also competitive pricing.
Please feel free to give us a call to discuss all your needs. If you found us by searching for ' tree felling near me ' or something similar, then we cover your area.
Why do I need to get my trees cut down?
It can be for many reasons. Maybe safety concerns, construction works or even to open up a view. No matter what your requirements are, you should always seek professional advice first, as there are many factors to consider.
If you are thinking of getting a tree cut down, we have the expert knowledge and experience at Ashford Tree Care to provide a safe, efficient service. We can advise on what trees need cutting down depending on the situation, so please feel free to give us a call to discuss any requirements you may have.
How can I tell if my trees are dying or not?
There can be many reasons why your trees may not look healthy. In some cases, their soil could be low quality, or maybe the tree simply needs pruning.
Whatever the case is, you should always seek guidance from a professional who specialises in tree felling to advise you on what work needs to be done. This will save you time and money in the long run.
For tree felling to be carried out, we will always advise on how best to undertake any works to make sure they are as safe as possible as well as efficient.
Where should the stump be removed from after cutting down a tree?
The stump should always be removed from the root upwards to clear any underground roots completely. If you try and remove the stump at the bottom, you risk leaving substantial root pieces, which could potentially cause future problems with tree growth.
Removing stumps in this way ensures that your trees will remain healthy and strong.
What are some things that may potentially happen during and after the removal process?
Some of the problems that can occur during and after tree felling are damage to nearby structures and harm to surrounding trees. Removing a tree from its location can also cause significant disruption.
For this reason, it is an excellent solution to leave it to the professionals. We have many years of experience in removing trees and will keep any disturbances to an absolute minimum.
Tree Felling near me
At Ashford Tree Care, we cover all of Ashford and the surrounding areas of Kent. We will likely cover your area if you search for ' Tree Felling Near Me ' and our site comes up. Please give us a call today so that we can discuss all of your needs.
Our Tree Surgeon Services
Tree Surgery
Tree Felling
Stump Grinding
Tree Crown Reduction